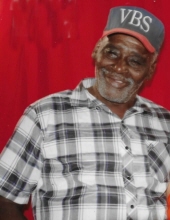 Obituary for Clarence E. Lewis
Clarence Edward Lewis entered into eternal rest on Tuesday, March 6, 2018 at Chippenham Hospital, Richmond, VA. He was born on May 12, 1951 to James Lewis and Mary A. Lewis.

Clarence was a warm and caring person and was loved by all that knew him.

He was preceded in death by his father, James "Bill" Lewis and two brothers, Tom and Tommy Lewis.

Clarence leaves to cherish his memories: his loving mother, Mary A. Lewis; two sisters Rosa and Mary Edith of Amelia, VA; four brothers, John Woodley (Cynthia) of Richmond, VA, Robert of Blackstone, Richard and Aubrey of Amelia, VA; two nieces; one nephew; three aunts; and a host of cousins and devoted friends, too many to name.

Funeral Services Sunday, March 11, 2018 at 1:00 p.m. from Michael W. Hawkes Funeral Home Chapel, Amelia. Interment Union Baptist Church Cemetery.

Michael W. Hawkes Funeral Home of Amelia in charge of arrangements.