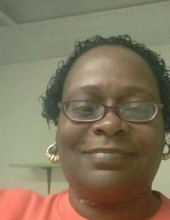 Obituary for Angela D. Delaney
Angela Dorin Delaney was born April 4, 1962 in Prince Edward County to James A. Delaney and Barbara Delaney Rumph. God called her home on Tuesday, January 2, 2018.

She attended Newark, NJ public schools. She worked various jobs, and was a caregiver for her grandmother and sister.

Angela was preceded in death by her father, James A. Delaney and brother, Ricky A. Delaney. She leaves to cherish her memories one son, Davyonne (Wanda) Delaney of South Hill, VA; two daughters, Dayvonne and Shavonne Delaney of Newark, NJ; six grandchildren, Isaiah, Brianna, Davyonne, Jaylen, Xavier, and Keyanah; her mother and step-father Barbara (Isaiah) Rumph; brother, Darin (Aishah) Delaney of Newark, NJ; two sisters, Lisa (Frankie) Summers of Orangeburg, SC and Gwendolyn Delaney of Blackstone, VA; three aunts, Mildred (William) Stanley of Blackstone, VA, Shirley (Lloyd) Jasey of Richmond, VA and Rita Delaney of Farmville, VA; a special cousin, Toni Nash; a devoted and caring special friend, John Hardy; a host of nieces, nephews and cousins.

Funeral Service Wednesday, January 10, 2018 at 1:00 p.m. at W.E. Hawkes & Son Funeral Home Chapel, Blackstone. Interment Hurte Family Cemetery, Crewe.

W.E. Hawkes & Son Funeral Home of Blackstone in charge of arrangements.