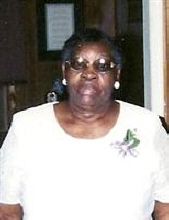 Obituary for Virginia M. Wright
On Wednesday, October 20, 2010, MRS. VIRGINIA WRIGHT was called home to Glory at the Thomas John Cancer Hospital in Richmond, VA. She was born on June 24, 1930 in Smithfield, VA.
She was married to Jessie Lee Wright, who preceded her in death. Mrs. Virginia retired from the Piedmont Geriatric Hospital after thirty years of service as a Nursing Assistant.
She served on several ministries at the Cellar Creek Baptist Church, to name a few: Pastor's Aide Ministry, Food Service Ministry, and Women's Ministry; she also served as Deaconess and choir member.
She leaves to cherish her loving memory: three daughters, Janice Whitley of Petersburg, VA, Sandra Whitley of Crewe, VA, and Sherry Hardy (Sonny) of Ford, VA; one step daughter, Celia Willis of Baltimore, MD; two sons, Calvin Whitley (Sharon) of Richmond, VA and Sherman Wright (Cartreia) of Crewe, VA; one brother, Thomas Whitley (Jean) of Smithfield, VA; two sisters, Theresa Croaker and Evangeline Uzzle of Smithfield, VA; nine grandchildren; nine great grandchildren; three sisters-in-law, Eleanor Whitley of Smithfield, VA, Jannie Whitley of Carrollton, VA, and Gracie Whitley of Smithfield, VA; and a host of nieces, nephews, cousins and friends.
Funeral Services Saturday, October 23, 2010 at 1:00 p.m. at Cellar Creek Baptist Church, Blackstone with interment in the church cemetery.
W.E. Hawkes & Son Funeral Home of Blackstone in charge of the arrangements.