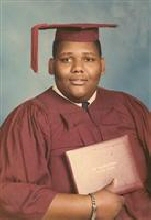 Obituary for Gregory L. Blackwell
GREGORY LAMONT BLACKWELL departed his life on August 27, 2009 at 1:00 p.m. at Southside Community Hospital in Farmville, Virginia. He was born August 31, 1969 to Roy Lee Blackwell, Sr. and Edith Marie Blackwell.
He joined Little Mount Baptist Church at an early age. Nottoway, Virginia.
Gregory was employed as a Correctional Officer for Powhatan Correctional Center. His true hobby was tow truck driver and operator for Butch Wrecker Service & Garage, Inc. of Blackstone, Virginia. He also loved to fish.
Gregory leaves to cherish loving memories: his loving and devoted parents, Roy Lee, Sr. and Edith Marie Blackwell; one brother, Roy Lee Blackwell, Jr. of Blackstone, Virginia; one sister, Helen Blackwell (Alphus) Bassfield of Richmond, Virginia; aunts and uncles, Katherine (Bazil) Fitzgerald, Elsie Maddux, Tom S. Rhoades, all of Blackstone, Virginia, and Eddie (Christine) Edmonds of Rawlings, Virginia; two great aunts, Ann Hunn and Edith Anderson, both of Washington, DC; two loving nieces, Naquita Marie Bassfield, Shelah Ann Bassfield and one caring nephew, Alphus Maurice Bassfield, all of Richmond, Virginia; a host of devoted cousins and friends.
Funeral Services Tuesday, September 1, 2009 at 1:00 P.M. at Little Mount Baptist Church, Blackstone with interment in the Greenview Cemetery, Blackstone.
W.E. Hawkes & Son Funeral Home of Blackstone in charge of the arrangements.