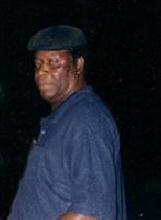 Obituary for Charles E. Brown
CHARLES EDWARD BROWN, son of Walter Lee Brown and the late Mary Louise Johnson Brown departed this life on August 10, 2011 at Southside Community Hospital in Farmville, Virginia. He was born in Amelia County, Virginia on December 11, 1945.
CHARLES attended school in Amelia County, Virginia. He loved to play guitar with his brothers in their band. Charles retired from Southside Virginia Training Center in Petersburg, Virginia.
CHARLES was preceded in death by his mother, Mary Louise Brown and his wife, Geraldine Booker Brown.
CHARLES leaves precious memories to his two sons, James H. (Angela) Booker of Charlotte, North Carolina and Charles Edward Brown, Jr. of Blackstone, Virginia; five grandchildren, Jasmine, Jamisen, Alden, KaShea and Jeremiah; his father, Walter Lee Brown of Amelia, Virginia; three sisters, Nancy (Roger) Tucker, Mary Brown and Katherine Brown of Amelia, Virginia; four brothers, Robert (Diane) Brown of Petersburg, Virginia, Ralph (Blondie) Brown and Henry (Lillie) Brown of Blackstone, Virginia; two aunts, Rebecca Burrell of Richmond, Virginia and Virgie Goodson of Nottoway, Virginia; five sisters-in-law; six brothers-in-law; numerous nieces, nephews, cousins and friends.
Memorial services will be held Monday, August 15, 2011 at 11:00 a.m. in the chapel of W.E. Hawkes & Son Funeral Home, Blackstone with interment in the Greenview Cemetery, Blackstone.
W.E. Hawkes & Son Funeral Home of Blackstone in charge of arrangements.