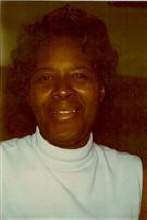 Obituary for Berthia I. Jackson
Berthia Irene Jackson, daughter of the late Carter and Bertha Jackson of Burkeville, VA was born on March 28, 1933.  She departed this life on Monday, March 5, 2012.
Berthia was employed at Stackpole for many years until her retirement.
Berthia was preceded in death by a sister, Lucy J. Robertson and a devoted friend, Lewis "Teddy" Thompson.  She leaves to cherish her memories:  two brothers, Robert Jackson (Eunice) of Crewe, VA and James Jackson (Doris) of Burkeville, VA; five sisters, Nettie Palmer (David) of Burkeville, VA, Hazel Johnson (Ronnie) of Newark, NJ, Lillian Jones (Nathaniel) of Crewe, VA and Mary Edmonds (Joseph) of Newark, NJ; two aunts, Louise Gilliam of Burkeville, VA and Isabelle Lucus of Detroit, MI; one uncle, James Todd of Burkeville, VA; a brother-in-law, Clarence W. Robertson; two devoted nieces, Karen Qawi (Loyd) of Burkeville, VA and Patricia Castillo (Jose) of Stony Creek, VA; two devoted great nephews, Windell Crawley of Richmond, VA and Justin Evans of Burkeville, VA; and a host of other nieces, nephews, cousins and friends.
Funeral Services Sunday, March 11, 2012 at 2:00 p.m. at Gravel Hill Baptist Church, Jetersville with interment in the church cemetery.
W.E. Hawkes & Son Funeral Home of Blackstone in charge of arrangements.